Airport Shuttle to Yamagata City
Fare
●Discount For the Disabled

Discount For the Disabled is applicable to eligible passengers and specified nurses. When redeeming, please present eligibility identification. Fare:650yen
Time Table
From Yamagata City to Yamagata Airport (10.29-2024.3.30)
JR Yamagata Station

East Exit #2

Tokamachikado
Nankô-mae
Kenchōmae
Yamagata
Airport
Schedule

Departs/Destination/Flight

7:30
7:33
7:35
7:39
8:10
8:50
Itami
JAL2234
8:30
8:33
8:35
8:39
9:10
9:50
Haneda
JAL174
10:50
10:53
10:55
10:59
11:30
12:10
Nagoya
FDA384
JAL4324
11:55
11:58
12:00
12:04
12:35
13:15
New Chitose
FDA602
JAL2842
13:20
13:23
13:25
13:29
14:00
14:40
Itami
JAL2236
15:30
15:33
15:35
15:39
16:10
16:50
Nagoya
FDA386
JAL4326
16:55
16:58
17:00
17:04
17:35
18:15
Itami
JAL2238
17:55
17:58
18:00
18:04
18:35
19:15
Haneda
JAL178
From Yamagata Airport to Yamagata City(10.29-2024.3.30)
Schedule

Flight/From/Arrives

Yamagata
Airport
Kenchōmae
Nankô-mae
Tokamachikado
JR Yamagata Station

East Exit #2

JAL175
Haneda
8:15
8:30
8:56
9:00
9:02
9:05
JAL2233
Itami
9:15
9:30
9:56
10:00
10:02
10:05
FDA383
JAL4323
Nagoya
11:35
11:50
12:16
12:20
12:22
12:25
FDA603
JAL2843
New Chitose
12:45
13:00
13:26
13:30
13:32
13:35
JAL2235
Itami
14:10
14:25
14:51
14:55
14:57
15:00
FDA385
JAL4325
Nagoya
16:15
16:30
16:56
17:00
17:02
17:05
JAL2237
Itami
17:45
18:00
18:26
18:30
18:32
18:35
JAL179
Haneda
18:35
18:50
19:16
19:20
19:22
19:25
Bus Stops
FromYamagata City
The bus departs from JR Yamagata Station East Exit Bus Stop #2 approximately 75 minutes before every departing flight.
From Yamagata Airport
The bus departs from the outside of the front entrance of the Yamagata Airport Arrival Lobby approximately 15 minutes after every arriving flight.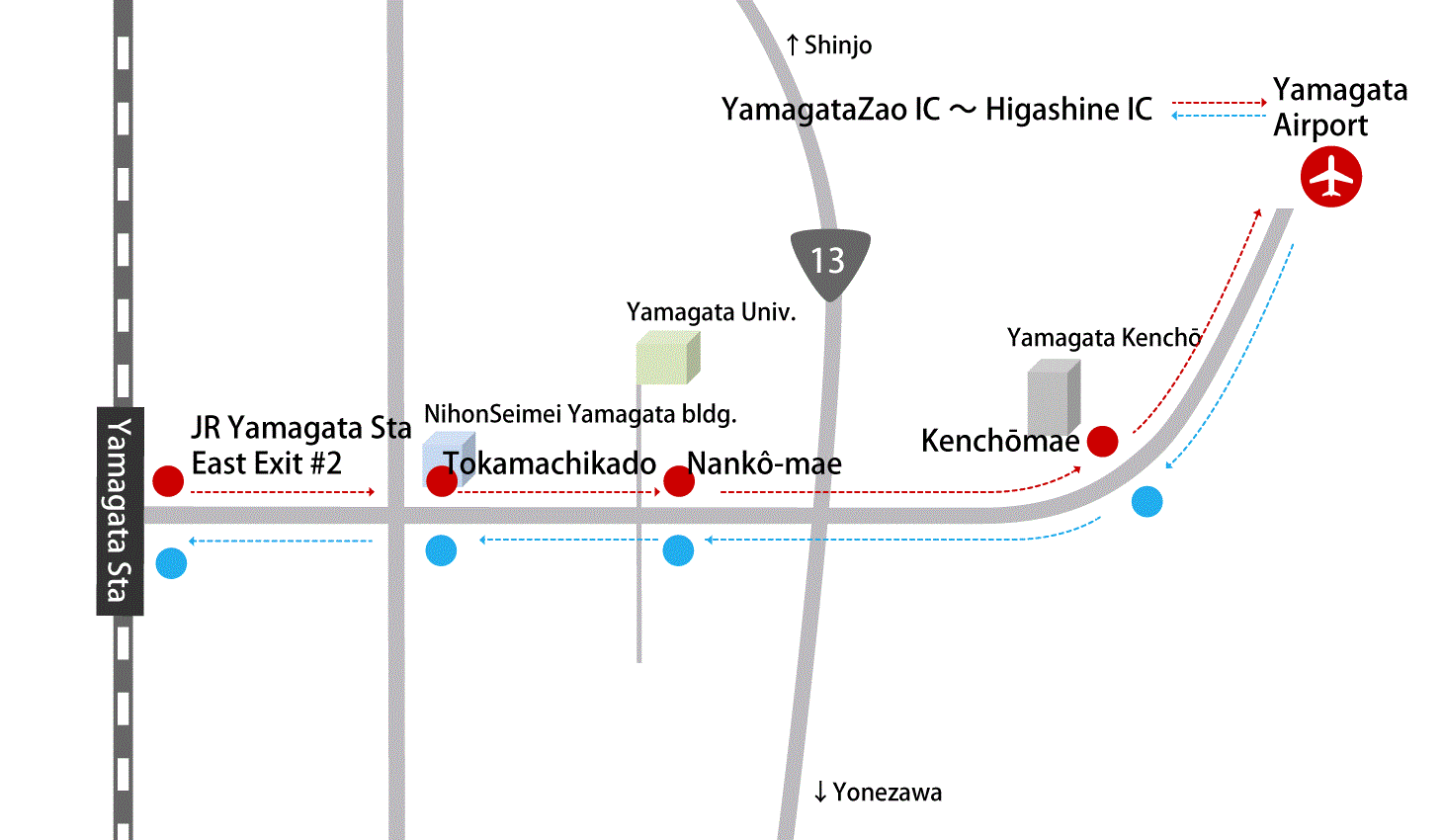 How to Ride
No reservation required.
Please pay by cash or transportation IC card.
Cards cannot be topped up in the bus(Airport Shuttle).
Please note,you can only get on and off at the bus stop,and it cannot be used only between Yamagata cities.
Only cash payment for vehicles other than wrapping buses.
Operation Company
| | |
| --- | --- |
| YAMAKO HIRE | TEL:023-681-1515 |