Visit Yamagata SNOW MONSTERS EXPRESS!
Visit Yamagata SNOW MONSTERS EXPRESS!
-Just an hour from Tokyo!-


Unique Snow Attraction in the World!
Trees are glazed with ice, becoming "Snow Monsters", during winter. ZAO-Onsen, Yamagata Pref. JAPAN is the only place you can enjoy such vast quantity of Snow Monsters since unique whether condition, proper quantity of snow and special pine trees are needed to form.
Convenient and Affordable!
As the flight between Haneda and Yamagata has been doubled from March 2014, this winter will be the good opportunity to visit Snow Monsters! The flight between Tokyo Haneda to the nearest Yamagata airport takes just an hour. To take this opportunity, many overseas travel agents have set up package tours like the following Singapore agents.
TRAVEL AGENCY


In addition, Japan Airlines introduced the new fare called "Visit Tohoku Fare", just 5400JPY /trip if you come to Japan by a One World Group flight.
↓click

Easy Access even for non-skiers!
While Zao-Onsen is one of Japan's largest ski resorts, Snow Monsters are easy attraction even for non-skiers. Ropeway is reached to the peak of the mountain where vast numbers of Snow Monsters stand impressive. A lot of overseas visitors visit and enjoy this splendid place every year. It's the time for you!
ZAO-Onsen is well known with its milky white spas (Onsen) all over the town and Oishii-Food such as one of Japan's top-ranked beef "Yonezawa Beef". Every tourists, skiers and non-skiers can enjoy the pleasant time there.

Save your plan! Snow Monsters is MUST place to visit next winter!
Period: Late December to Mid March *subject to its weather of each year
Getting there: 30 minutes on a bus from Yamagata airport to Yamagata Station, then 40 minutes on a bus from Yamagata Station to Zao Onsen (hot springs).
50min Direct Access from Yamagata airport to Zao-Onsen will be started soon. (TBD)
Contact: +81-(0)23-694-9328
URLs:
ZAO-Spa sightseeing association
www.zao-spa.or.jp/
ZAO pamphlet(PDF)
http://www.youblisher.com/p/475219-ZAO-pamphlet/
ZAO ropeway
www.zaoropeway.co.jp/
ZAO Access MAP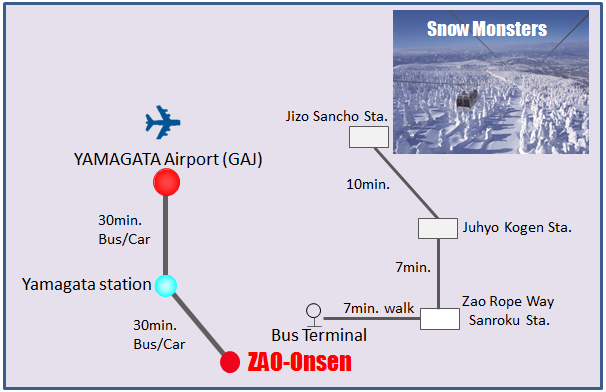 ZAO Access information ⇒ http://www.zao-spa.or.jp/english/access.html